Wow! I have really been full bore on this little labor of love over the last few weeks. I haven't taken much time to post progress, but I have been taking pictures along the way. Here are the latest:
The neck ring detail work is finished: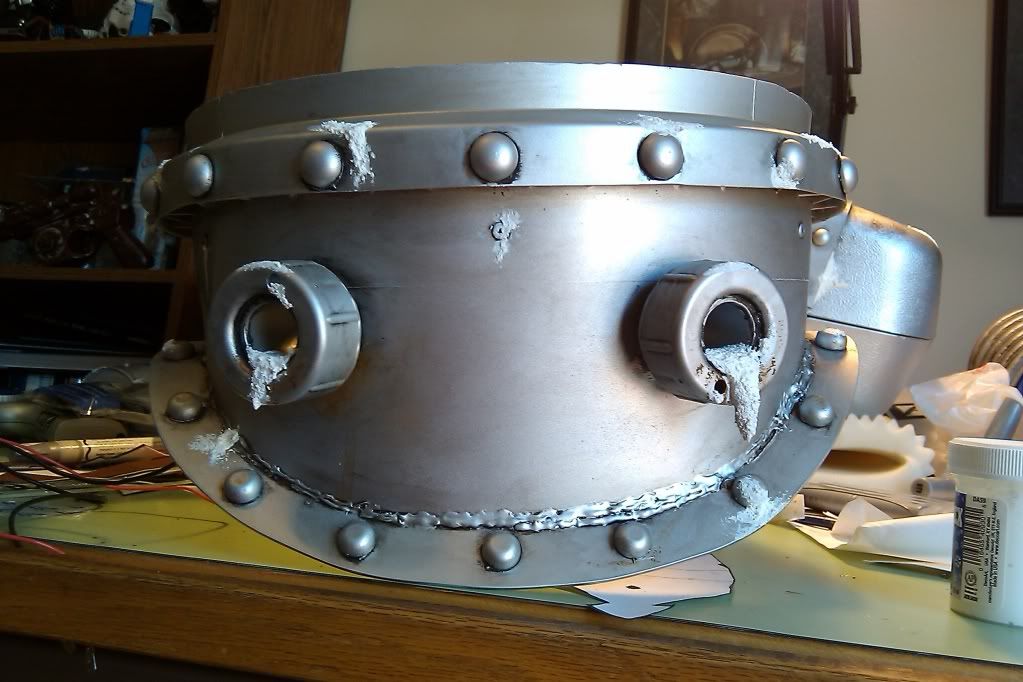 The Jumpsuit fitting went well. Steve did a good job sewing her up for me. After this, we brought up the torso length along with some other adjustments, but you can really see where it's headed in this photo: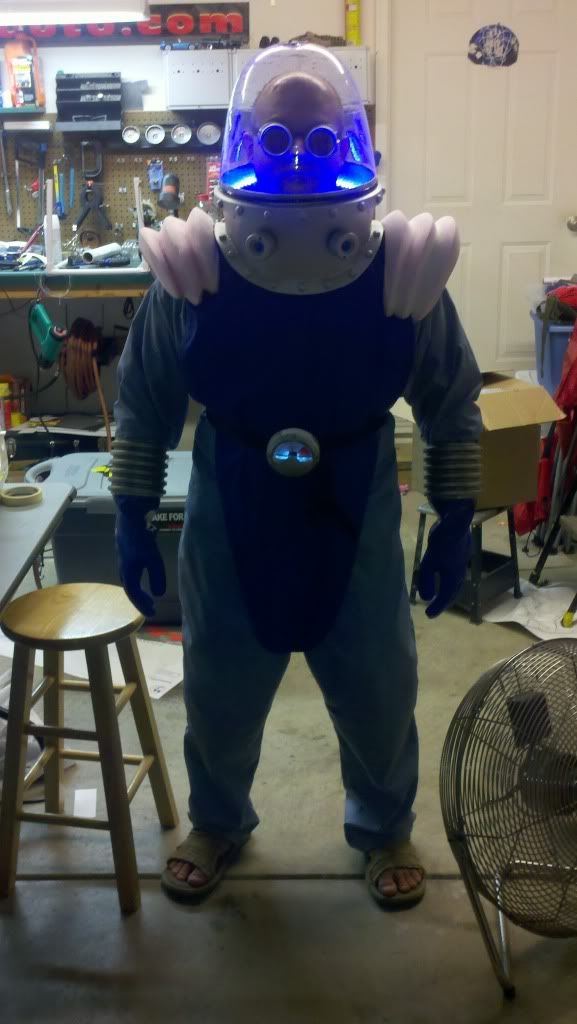 The backpack Rigging will be under the jumpsuit. It is made from some luggage straps I bought at Walmart. ($1 a piece!)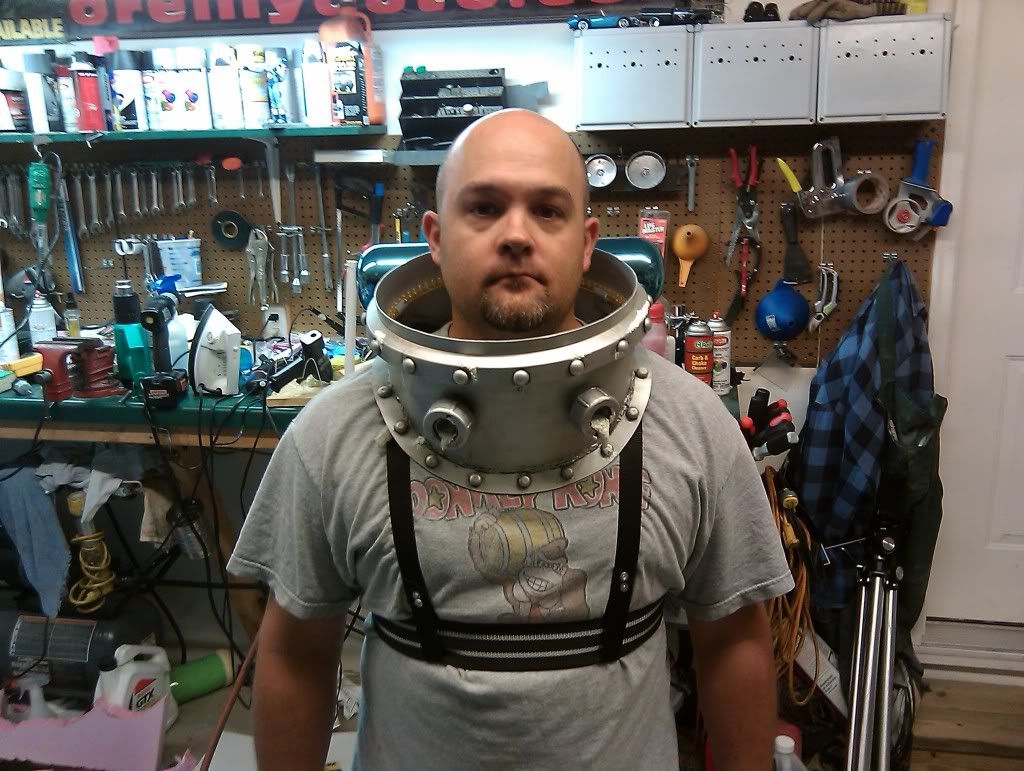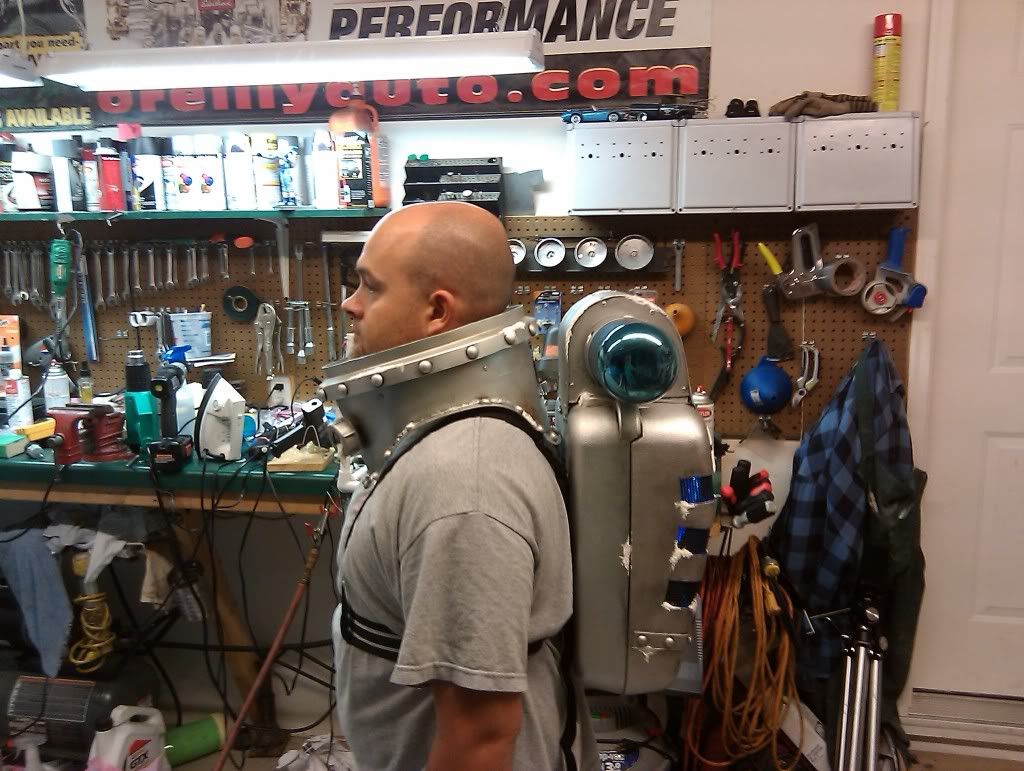 The shoulder foam was coated in an Elmer's Glue-All wash to seal it and then given a couple of layers of Epoxy Resin. This stuff is like painting with Honey and tough to sand because it is soo hard. The end result was a bit bumpy and uneven, but Based on the weathered condition of the cuffs and other parts, I kinda like it. (It reminds me of the finish on an old metal bridge that my firm inspected the other day. Sorta like it has seen a few coats of rust and paint, etc...)
In glue on their custom painting and drying rack: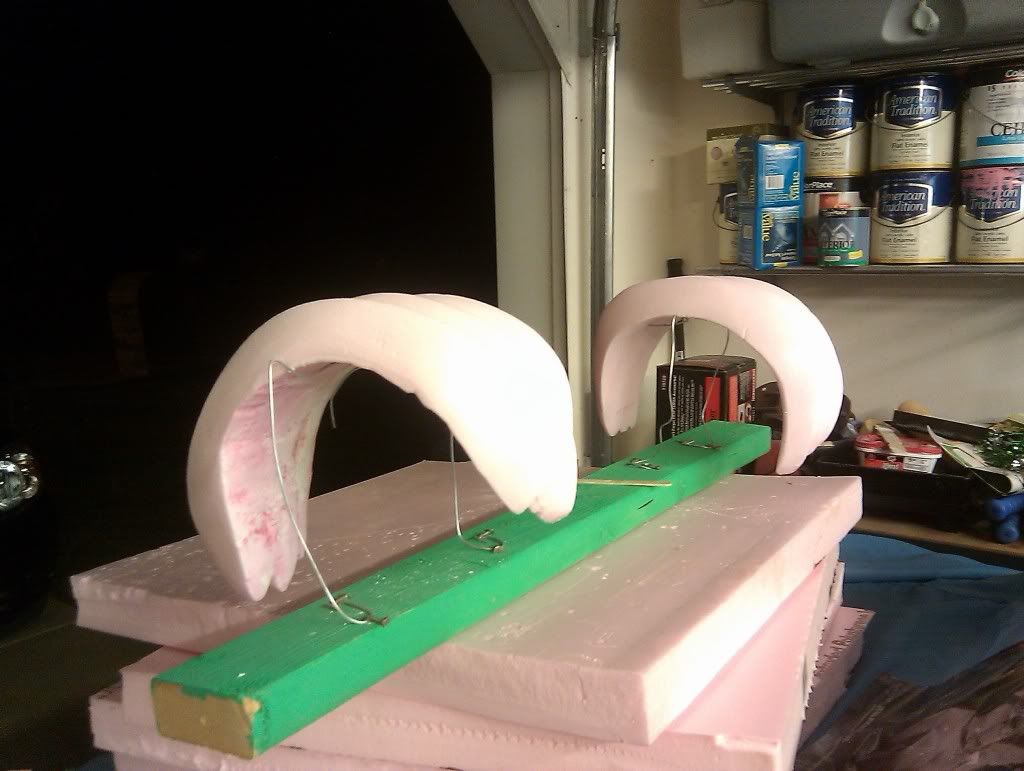 The Resin begins: (At G.A.M.E.)
...in paint and weathered: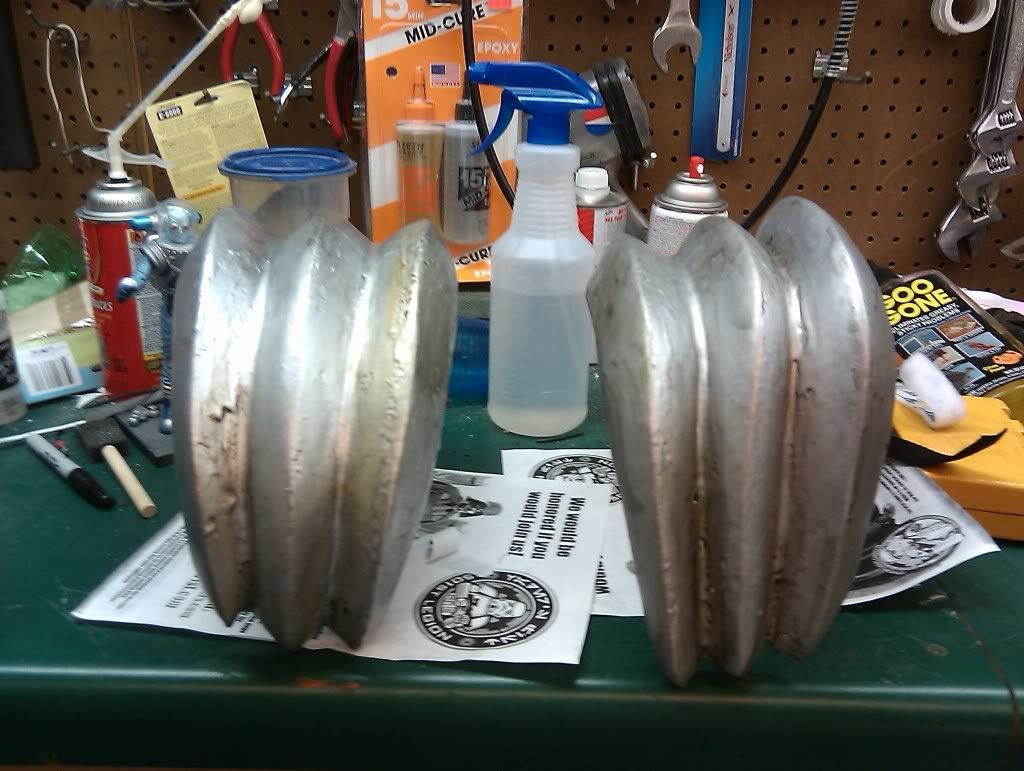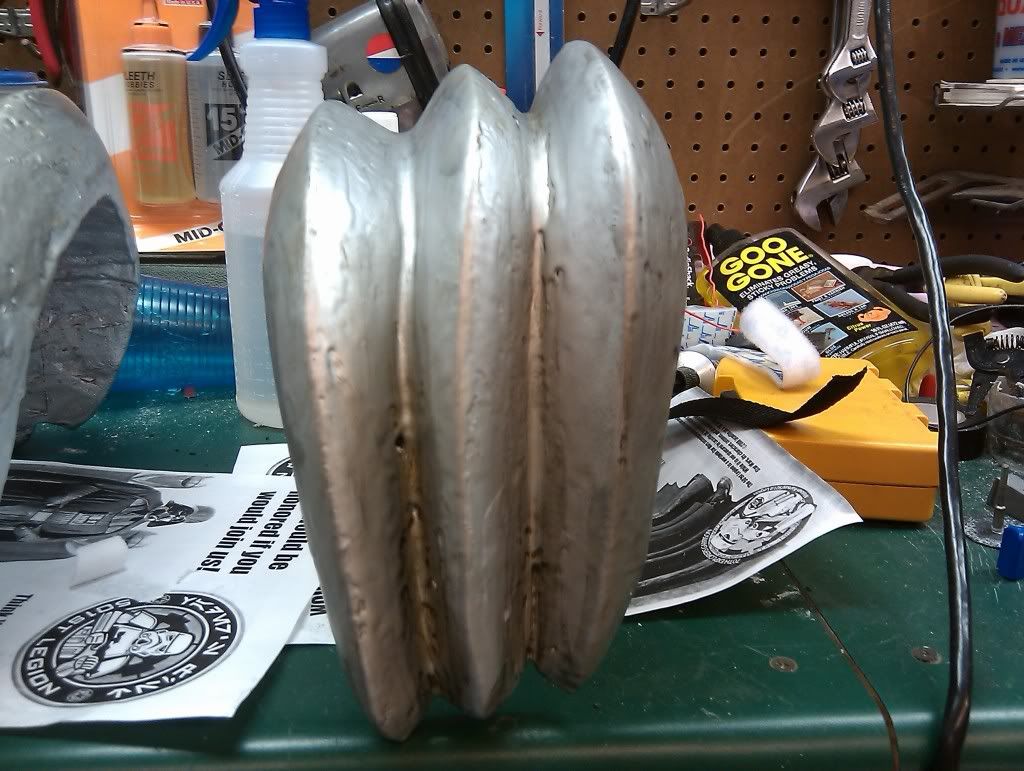 ...and strapped on: (I feel like a linebacker in these things, but they weight next to nothing!)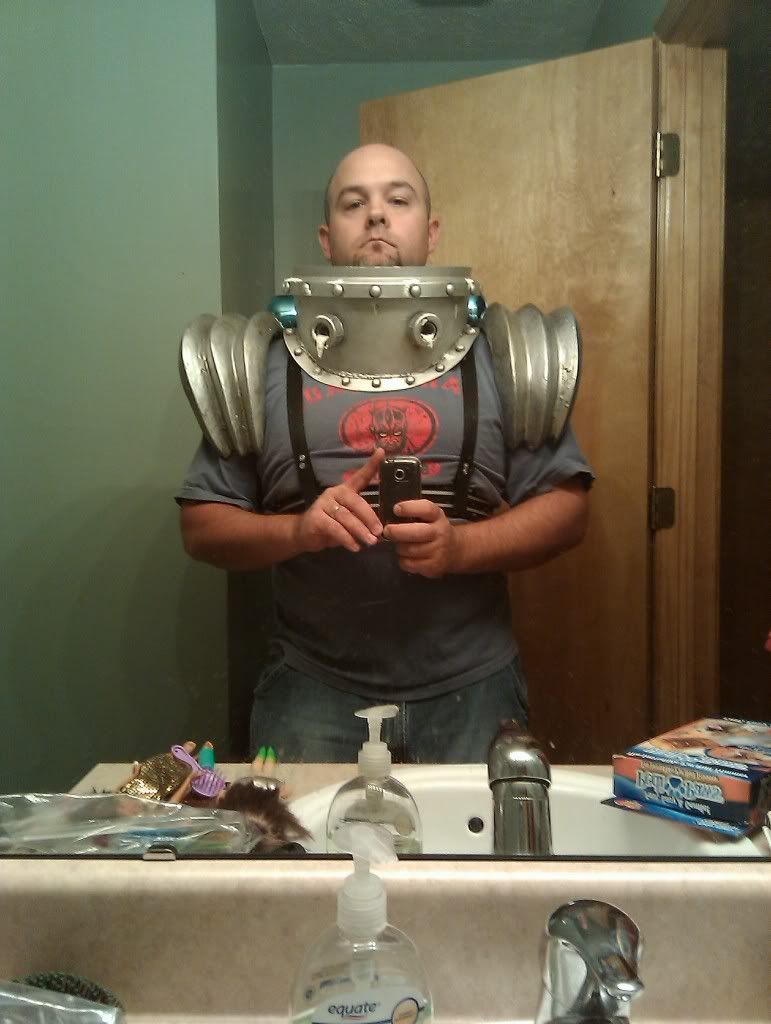 The boots are another animal altogether. I am starting with a pair of Frankenstein boots that Mr. Robert Brill donated to my cause. (Since Mr. Freeze is over 6' tall and I am a little under 5'-8. :-)) I am building up the comic book/animated look by adding foam and more foam to bring them from Universal monster to comic book villain. This will all be wrapped in blue vinyl and topped with cuffs that match the gloves and foam "metal" toe covers"
Cuffs for the top in silver:
Toe covers, made from floor mat foam:
Here you can see the shoulders have a finished foam liner glued in as well as the cuffs and toe parts...
I plan on wearing this on Saturday night to a Halloween party as sort of a test run. There is a
lot
I still want to do to it before I wear it to a Con, though.
...and now to finish those boots....