Well, I've decided that with two clones and only one DC-15 that it is time to add to the arsenal. The new piece is the Z-6 Rotary Blaster Cannon. There are two models of this blaster: Clone Wars (in my sig banner) and the new Clone Wars. I'm making the later, which is pictured below.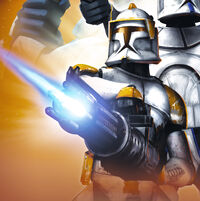 Everything that I need are these misc PVC and parts obtained from Lowes:
The WIP begins.
#1 Hiking Pole Handle from left over from the TR build, added to PVC:
#2 Business End of Barrels:
#3 Barrels and Receiver:
On the barrels and receivers, I'll be cutting these down to make the end result more manageable for troops. The barrels will be cut down to to 17 or 18 inches. The receiver will be cut down slightly to 20 inches; at the last blue line and a few inches on the other end. Oh and I might have to adjust some vent holes (as seen in the picture).
Not pictured is the coil element for insided the barrels. That will be made from a flexible drainage pipe.
I'll be adding a casing to the receiver and making the circles for the barrels this week. The sight rail, the handles, and the magazine are planned for this weekend. Currently, there are no plans to add electronics.
More to come this week...