I started building the DC-15L blaster rifle a little over a year ago. I've made slow progress, but I think I've got something to show for it.
I started with diagrams from the blaster builder club by WizardOfFlight.
http://www.imperial-fleet.com/BBC/commu ... p?f=9&t=73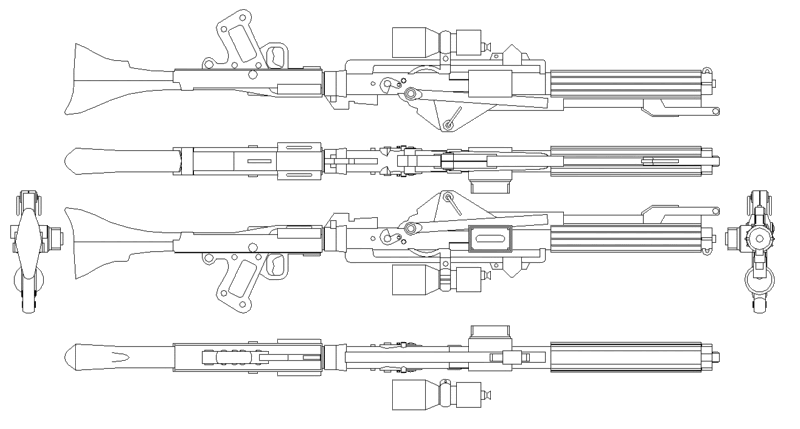 Looking at screencaptures and reading on the forums seemed to indicate the rifle is 55 inches long. I started off by putting the diagram into Viso and getting everything to scale. Then I printed off images of it to scale. I had to add a few reference marks to make sure I could align the paper. I also identified the thickness at the various locations so I could build it in layers.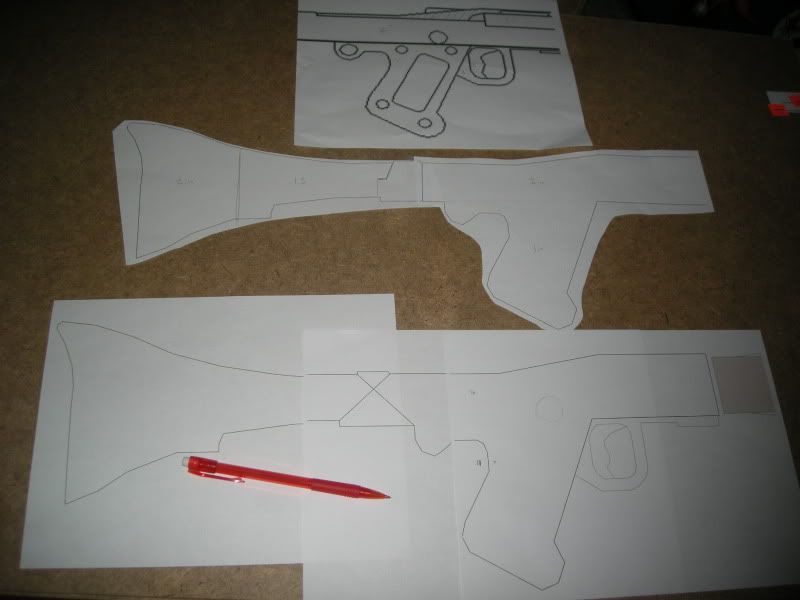 I used spray on adhesive to attach the pictures to 1/4" hardboard. I bought a few 2'x4' sections for a couple dollars each. It made this project much easier.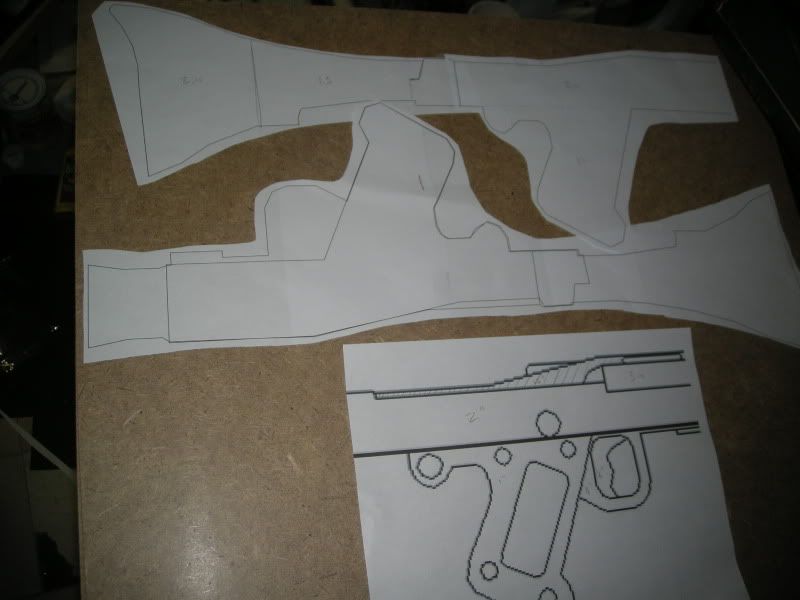 I don't own a bandsaw so I put a jigsaw into my vise and used that instead. I've found this technique is more accurate than the standard use of a jigsaw. Primarilly because the paper is pulled towards the wood when it is cutting. If this is done the standard way with the jigsaw on top of the wood the paper tends to get pulled off of the wood leading to inaccuracy.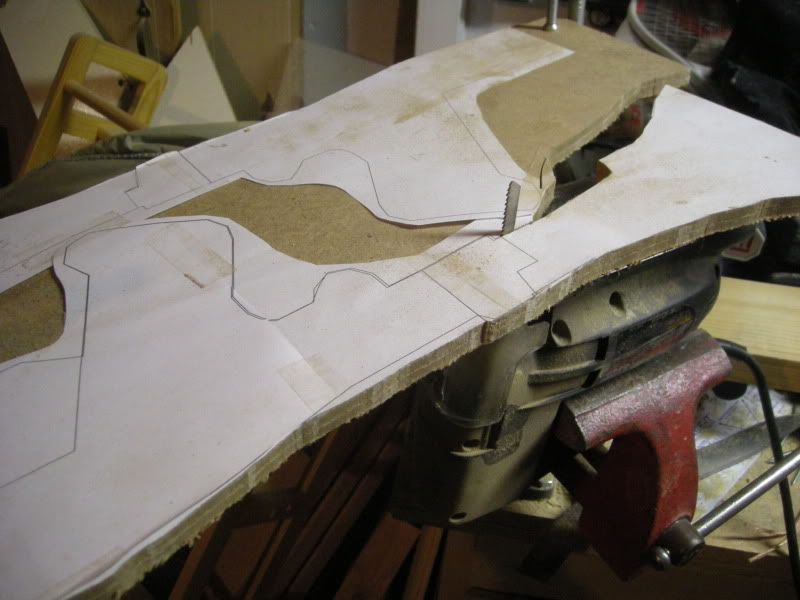 I made multiple layers for the different thicknesses.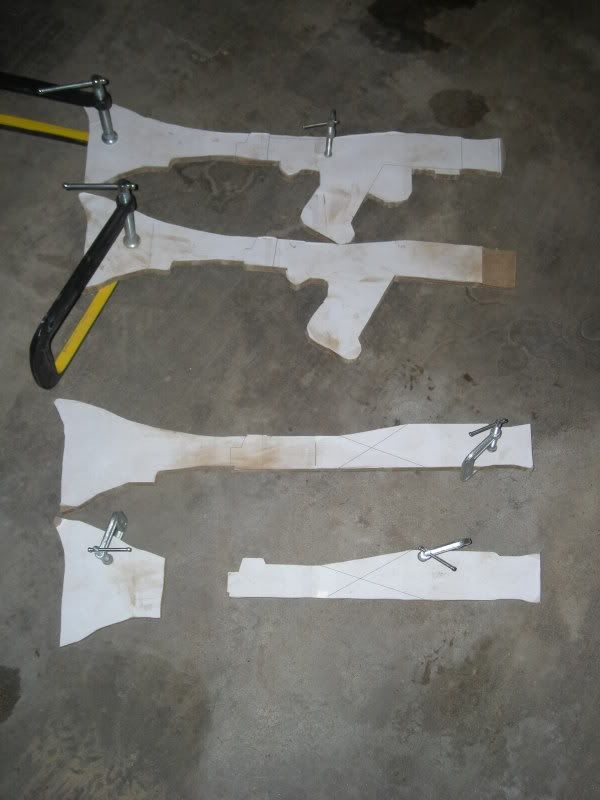 Here it is test assembled.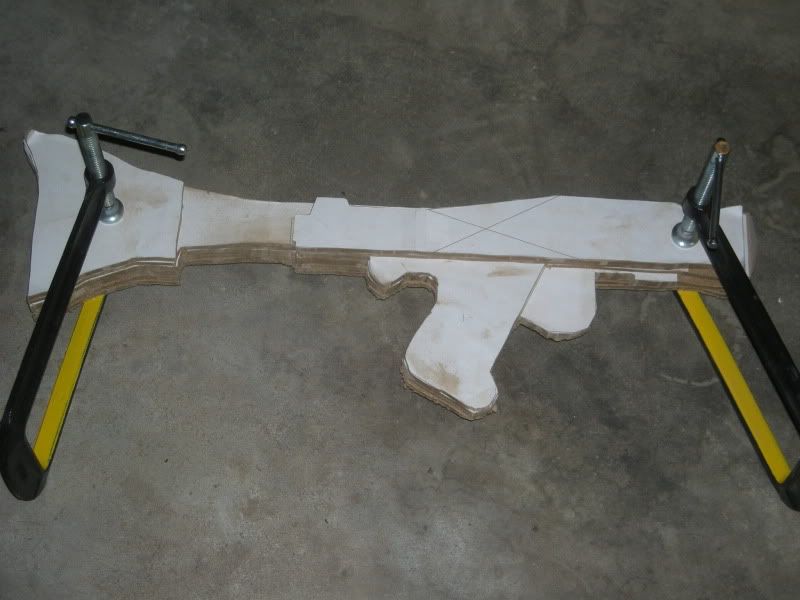 I identified the long parts on the barrel. These were all at different thicknesses. I rounded them off to what I thought were appropriate 1/4" differences. I cut 4 layers of these at the same time. Afterwards I was able to discard unecessary copies to get to the right thicknesses.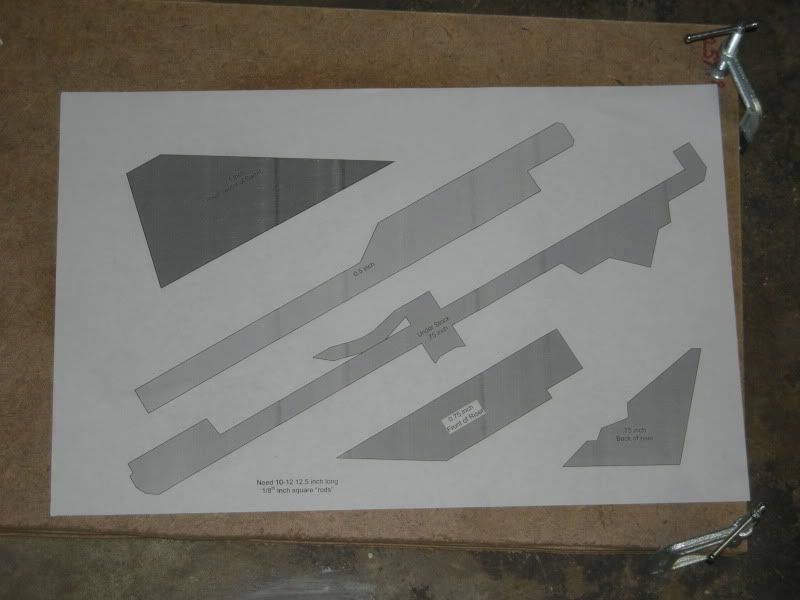 To keep everything securely in place I drilled 1/4" holes and bolted the parts together. I was also able to start some of the shaping and sanding.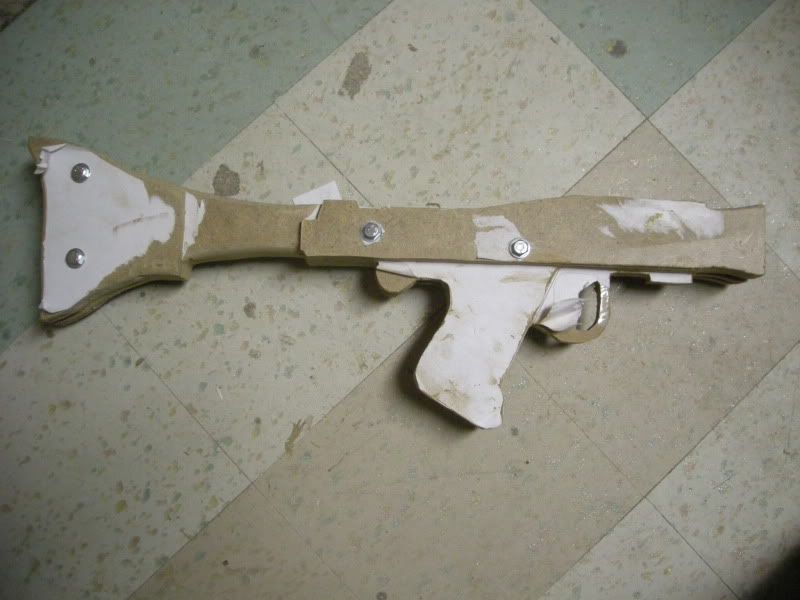 I cut groves into it to mount a 1" sched 40 PVC pipe into the front of it. I calculated where the edges would be for each of the layers.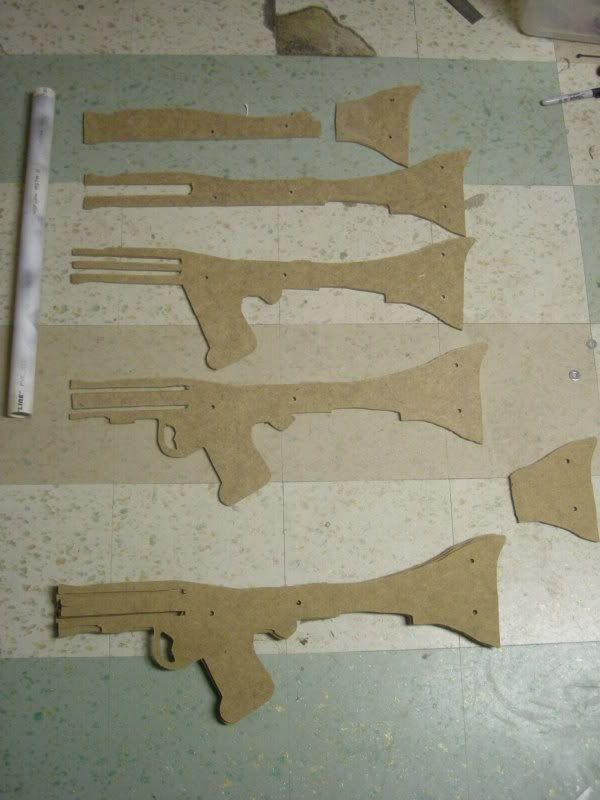 I thought it was worth a rough fit at this point.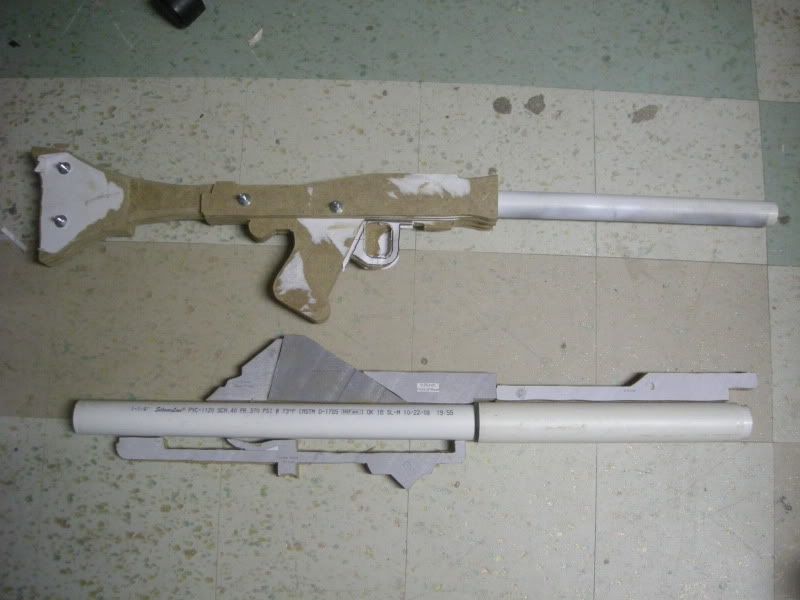 The triggers were difficult, I couldn't think of an easy way to cut through half a layer. I've had some difficulty with this machine in the past, but it worked great for me. I CNC'd triggers into each side. They didn't line up perfectly, but a file fixed that pretty quick.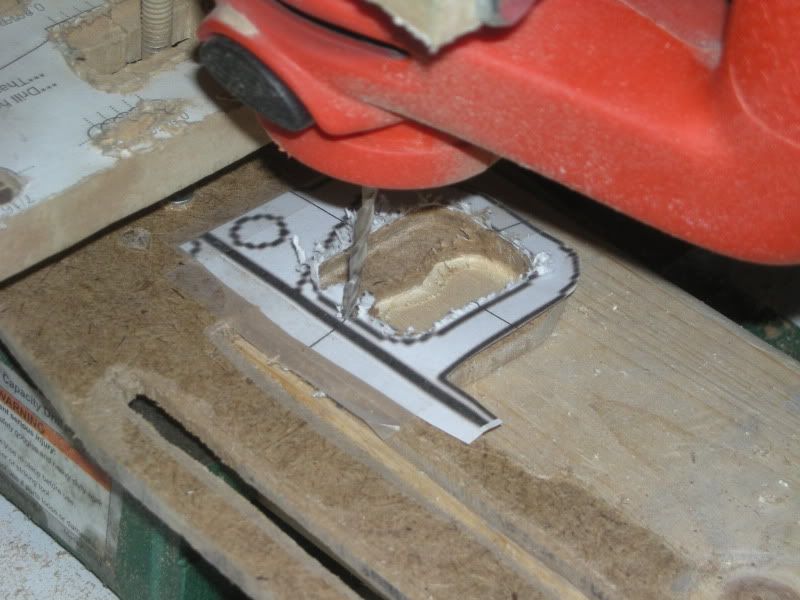 I glued the layers together. I used vasoline on the bolts so they wouldn't be glued into it.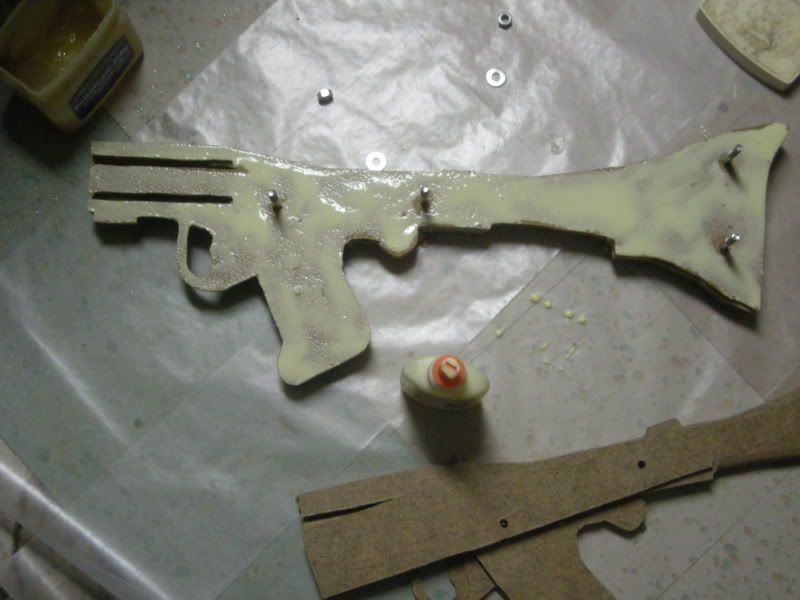 I designed it to split in half for storage. I wanted the mechanism to be like the way some tentpoles attach together. I believe those use something called a spring clip. I couldn't find any of those at my local hardware stores, so I used something called a bullet latch. It was a little tricky to get all the holes lined up. I did one side, then with it attached together I drilled the small hole in the other side of both pipes. I separated them then enlarged the bigger hole to fit the bullet latch into.I had to sand the spots down so the flange on the bullet latch would be recessed slightly to get the 1 1/4" PVC over the top of it.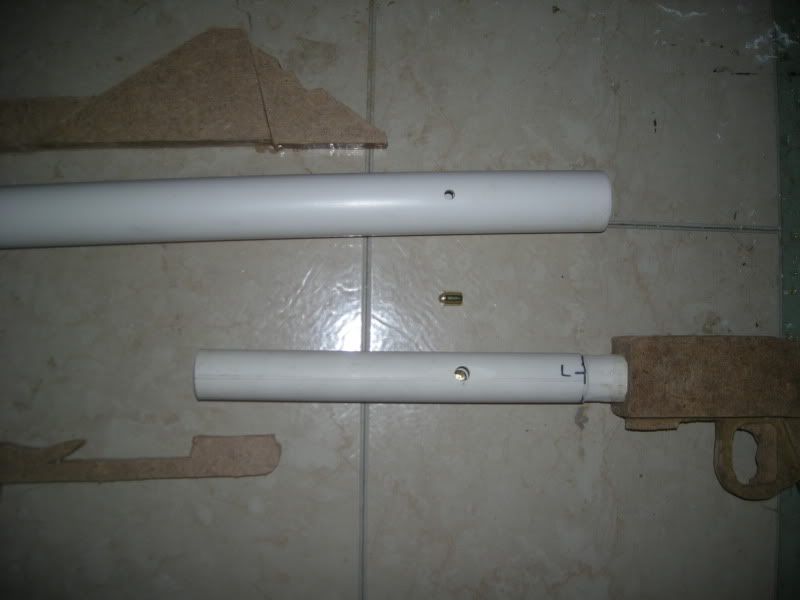 I used 1 1/2" pipe for the big part of the barrel, but I was unable to find it in sched 40 (where it would've fit perfectly). I had to wrap 10 layers of masking tape around the 1 1/4" barrel to make it a tight fit. I also glued on 1/4" square stock that I cut at a 45 degree angle (in a mitre box) to give the appropriate shape of the vent fins.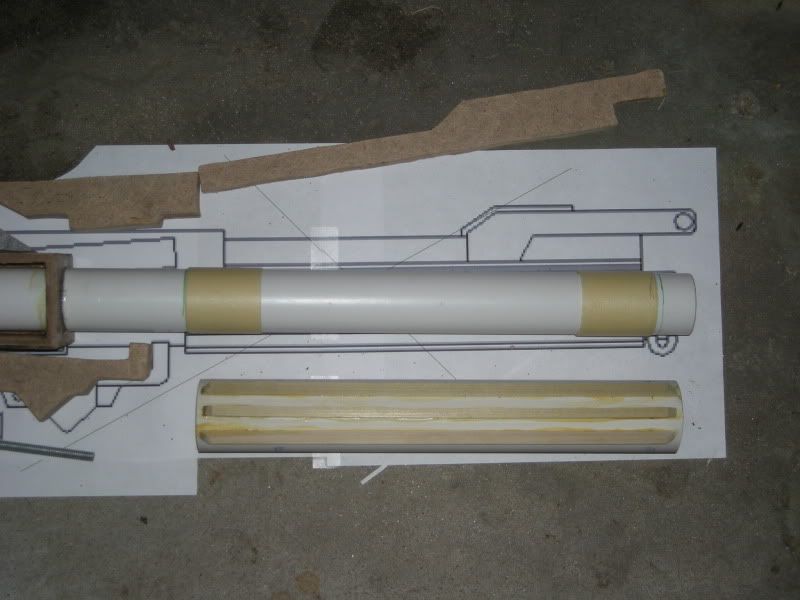 I glued the rest of it together. For all the barrel connections I used an industrial contact cement that I reinforced with some CA glue. It's pretty solid. I made the "scope"(?) out of blocks of wood I cut with a hole saw. I used my drill press like a lathe to spin the angled piece and a rasp to cut it to the right shape. I made the mounting ring out of bondo and shaped it using the same lathe technique, except I used a dremel tool for the shaping. I found that the piece tended to wobble once I put all the parts on it. Took a heavy clamp and a block of wood that I drilled a hole into and used it like a bearing at the bottom of the threaded rod I was spinning everything on. It worked great and kept things from wobbling too much. When I was done, I attached the scope with a long wood screw and lots of glue. I filled the center hole with a disposable chopstick and wood glue. It seems very sturdy.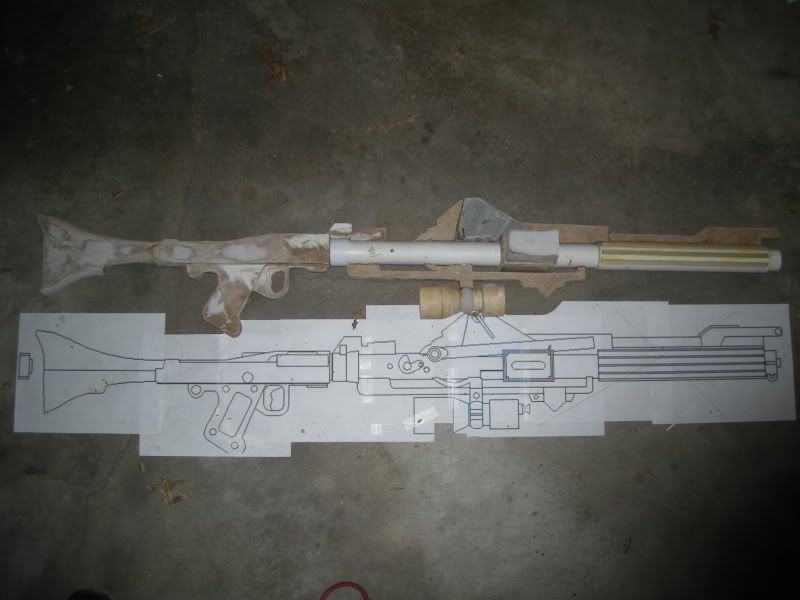 I've got a few bits left to attach, but I'm not sure what to do after that. Eventually I want to paint it with Plastidip. It's very sturdy and I suspect this is going to get beaten up a bit. It weighs about 7 pounds. Does anyone have experience with plastidip? Is it ok to use a primer? Do I have to use a primer? Am I likely to lose much detail? keep in mind that my smallest details are about 1/4" so some detail loss probably won't be noticed.
I've also considered making a mold out of it and casting up some resin ones. Primarilly this is so that I won't mind if they get damaged while trooping. My plan had been to mold the details right onto PVC pipes. That way I could still split it the way I do today. It sounds like resin versions are much more fragile and won't save much on weight. I don't feel the details on this are crisp enough that I could sell them.
Andy